Cascading the Building Blocks of Service Excellence
When we ask our teams to deliver excellent service, it's important to explain what "excellent service" means for your organization. To build on the explanation and increase the understanding and delivery of service that goes above and beyond, employees benefit from ongoing communication about standards of service. Providing excellent service is core to an organization's success and should always remain a focus of leadership and teams.

At What's Right in Education, Superintendent, Dan Woestman presented the following Building Blocks of Cascading Service Excellence to attendees. Watch this video clip as he reviews the 8 key elements of continuously focusing on excellent service.

00:01
so I'm just going to walk through these
00:04
again these are the building blocks that
00:07
I reviewed today first we had talked
00:10
about strategic planning which may
00:11
already be something that a lot of us
00:12
have done we talked about defining
00:14
service excellence we talked about
00:16
rolling that out and communicating that
00:17
to staff we talked about reviewing those
00:20
on a quarterly basis cascading through
00:23
different levels of leadership we talked
00:25
about maybe creating some video examples
00:27
that you can share throughout the year
00:28
or even in a one-time setting different
00:30
types of communication material like the
00:33
bookmark or the commitment that a lot of
00:36
our staff members have signed we talked
00:38
about frontline staff training around
00:40
specifically service excellence
00:42
incorporating interview guidelines
00:44
incorporating service excellence into
00:46
your evaluation plans the guidebook is
00:50
something that we're looking at creating
00:51
next year and then you could even look
00:54
at incorporating some type of discussion
00:56
into a regular weekly or otherwise
When customers think about service, they tend to focus on the 4 basics expectations. Was the service timely, accurate, professional, and friendly? Beyond those 4 basic expectations, what it means to provide excellent service can mean different things to different people. When we are providing excellent service, we are going beyond those 4 basic customer expectations to show our customers we care deeply about what we stand for and how we want to interact with others. As an organization or a team, come to a collective definition on what it means to provide excellent service. Ask for feedback from people across different levels, not just leaders. Consider creating a team to specifically tackle this definition, what your organization's standards might look like, present their ideas to the greater organization, and collect feedback.   
Now that our definition has been collectively agreed upon, how do we build greater understanding of service excellence? Think about how you can get the conversations around excellent service happening. Examples include a communication piece such as a poster or a bookmark with the organization's standards of service excellence, quarterly presentations focusing on only one standard at a time, or a video series depicting the right way to live the standards and the wrong way to behave.  
Making a commitment to living the standards of service excellence sets the stage for an employee's work with an organization. We recommend creating a service excellence standards document for all new employees to sign as they join your team. Some organizations ask potential employees to sign even before an interview. This document can outline how the organization has defined service excellence and explains to new employees what is important.  
Building capacity refers to training our front-line employees on how to implement the right customer service tools and tactics. While it's important to for everyone to use the standards of service excellence, it is often our front-line employees who are closest to this work. Plan for reoccurring training in key customer service areas. Implement the following tactics, for example: AIDET®, 5"10" Rule, Handover, Managing Up, and Service Recovery.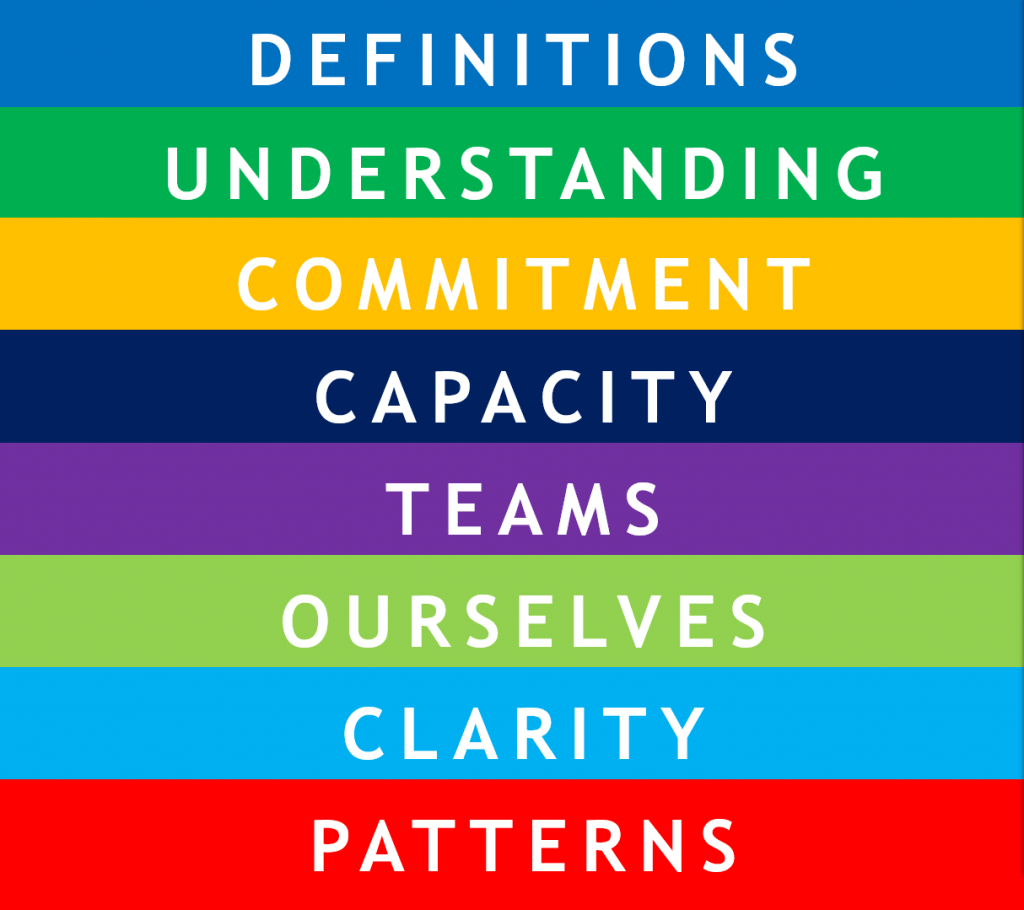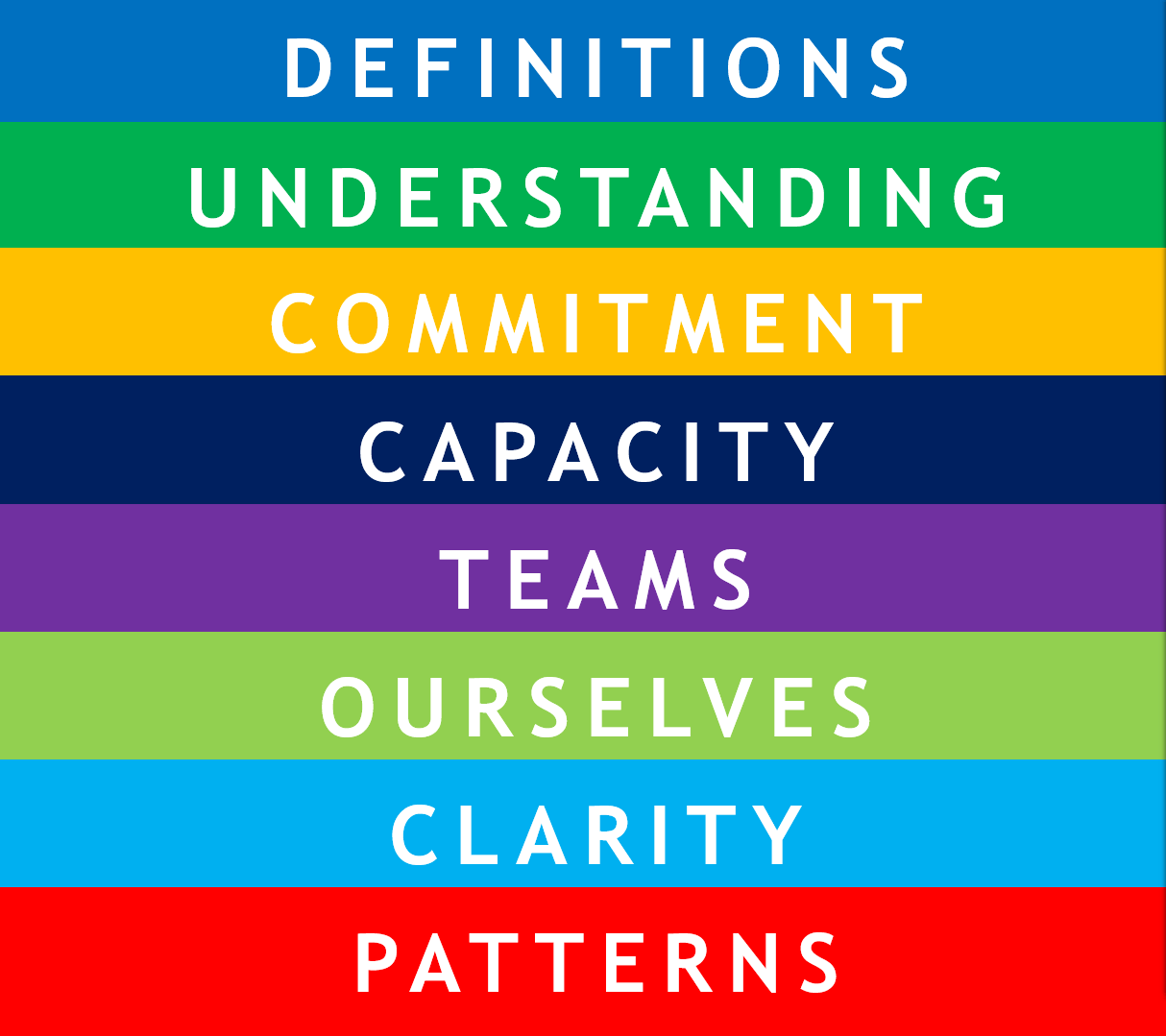 Teams  
As recommended in the "commitment" building block, the standards of service excellence can be used to support hiring and team building. Gather staff input, what are your current employees looking for in a new team member? Using the standards and employee input, human resources can create a candidate profile to outline desired characteristics for recruiting and interviewing. Based on the organization's values and standards, develop behavioral interview questions to ask candidates around excellent service.
Ourselves
Standards of service excellence can be used during evaluations, as well. Again, this supports having continuous conversations around standards and how our actions align to our values. This doesn't have to be formal; it can be completed as a self-assessment to facilitate the conversation and to acknowledge our previous work.
Clarity
Leave no room for question or confusion about the service excellence standards. Create a handbook or a document that is easily accessed by any team member that clearly explains the standards.
Patterns  
Identify and acknowledge patterns that reinforce service excellence. Talk about what people are already doing to live the organization's values. How can leaders create more patterns to keep conversations around values occurring? For each organization, the patterns may look different. The important part is to look for patterns and find ways to increase patterns. For example, a monthly cabinet meeting may begin with a 5-minute value review, or when sending thank you cards take the opportunity to connect your gratitude to a value.