A MODEL FOR CONTINUOUS IMPROVEMENT
Plan, Do, Study, Act, or PDSA is a 4 stage model used to test and implement system-wide improvement. The PDSA model supports organizations that strive for continuous improvement. Organizations that practice continuous improvement are always searching to improve and want to be consistently more successful than they were in the past. Being more successful depends on identifying areas for better execution and making those improvements. PDSA is a helpful tool in this on-going journey to make each system within an organization function at levels of excellence.
During the following video, Jerim DesJarlais, an elementary school principal, provides an example of how PDSA is used in classrooms by teachers and students throughout the school. The application of PDSA cycles may look different in your organization, keep in mind this continuous improvement process can be customized to fit each specific need.
00:02
when we talk about plan do study act
00:05
specifically why did we land on plan do
00:07
study act well to be honest we didn't
00:09
even have a process so we weren't to
00:11
fall we wanted to find a process that
00:12
made sense and Eric will follow or will
00:14
follow up a little bit more later about
00:16
why we landed on the PDSA process
00:19
specifically in what our journey was for
00:21
that but what is the plan do study act
00:23
so plan is just that we had to do the
00:26
work put in the work we focused on the
00:29
Common Core State Standards and
00:30
identified priority standards a lot like
00:33
you probably have over time the work at
00:35
the elementary level across six
00:36
elementary this is ongoing the middle
00:39
school in the high school continued to
00:40
work it's kind of like their satellite
00:42
buildings they need to prioritize their
00:44
standards and they were working on scope
00:45
in sequence so it is it's definitely a
00:47
work in progress with the problem we do
00:50
prioritize the standards and we then
00:52
create ican statements and with those I
00:54
can't statements do is they make the
00:56
language more student friendly so at the
00:58
end of a unit a student can say I can do
01:01
this the new focuses on the strategies
01:04
and you heard some mention over earlier
01:06
and that the Hattie's work as well as
01:09
Marzano's work so a lot of our work with
01:11
students and their staff and teaching
01:13
and learning focuses on making sure the
01:15
instructional strategies that are used
01:16
by teachers are in fact the high yield
01:18
strategies the power comes when we can
01:21
have our students talk about the
01:23
strategies that work for them so we are
01:26
very intentional about making sure that
01:27
the students are aware what the
01:29
strategies are that they're being taught
01:32
and that might work for them as far as
01:34
the study goes that is the those are the
01:36
assessments so we do PDSA as a short
01:39
cycle continuous improvement process so
01:40
we have classroom level assessments that
01:42
we use to determine growth we don't want
01:45
to teach and hope we want to make sure
01:47
that we are checking progress along the
01:49
way the ACT portion of the PDSA is to do
01:53
a plus delta or what went well what
01:56
and that process looks different
01:58
depending on the grade level you might
02:00
see a first grade classroom where
02:01
students are sitting on the carpet front
02:02
of the teacher and the teacher said okay
02:04
we just got done with this how do you
02:07
think it went and it's very cute to see
02:09
what first graders say about what went
02:10
well and it's also very funny to say
02:15
but that is a process the processes the
02:17
teachers get feedback and then they use
02:18
that feedback to improve their
02:20
instructional practices the next unit
Organizations use data to improve and standardize individual processes and spread those standards for consistent use across the organization. After processes are standardized, consistent, and working well, our focus can turn to improving the entire system. System-wide improvement is a more continuous, long-term project compared to improving one process. A system can be made up of many processes.
The PDSA model is designed to run in cycles which compliments the pressure for continuous change organizations feel today. As results are studied in each PDSA cycle, plans are made for the next round of action. PDSA allows us to test our ideas for improvement work, before we implement them throughout the organization. Rapid cycles of PDSA can lead to faster, more successful system changes. If there are additional changes in the external environment, PDSA cycles allow us to gather results related to those changes, which gives organizations more accurate information for decision-making.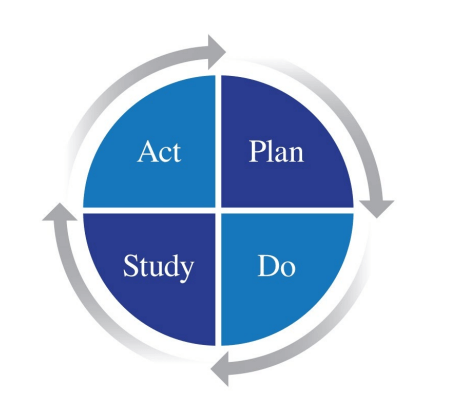 Plan
Identify the Problem:
What are you trying to accomplish?
How will you know if change is an improvement?
Develop a team to define the problem, look for solutions and develop and communicate the plan. Those who are directly involved and most familiar with the work are ideal for this team. The team should analyze the possible solutions and determine which will be the best to implement. Consider how improvement will be measured and rely on data to inform if the plan of action designed is the best one for the cycle.
Do
Study
Act