How to Use a Fishbone Diagram
Have you or your team ever had a problem you could not get to the bottom of? Identifying root causes can seem like a daunting task, particularly in a team setting. However,
research
shows that people generate 37% more ideas when they work as a team, compared to when they work alone. Working within a structure can make root cause analysis run much more smoothly. A cause and effect diagram, sometimes referred to as Ishikawa Diagram after its creator, Kaoru Ishikawa, is a structured team process that assists in identifying underlying factors or causes of variation within a specific event. Simply, it is brainstorming in a structured format. Together, your team can utilize this simple diagram to tackle your toughest problems.
The Fishbone diagram can be applied:
To analyze and find the root cause of a complex problem
When there are several possible causes for a problem
When the problem is highly complicated and the team cannot identify the root cause
Fishbone's purpose is to arrive at a deeper understanding of the problem you want to address before jumping into a solution. Therefore, it is important to work collectively with some expected norms in mind. Use these tried and tested tips and norms to running your first successful fishbone process:
Avoid "Solutionitis" the goal is to understand the issue, not solve it (yet)
"Yes and" meaning to attempt to always add to a cause, as the goal is to generate lots of ideas, and not fixate on one
Embrace "definitely incomplete; possibly incorrect" as you may not always find every cause right away – keep an open mind about returning to your fishbone and adding on new possibilities. You may not always be on point, be open to possibly being incorrect in your assessments of a problem
Share the air
If you find there are several complicated issues your team must address, complete a separate Fishbone for each! Learning the tool is the first step.
As suggested in the word "Fishbone", these diagrams are structured in this manner: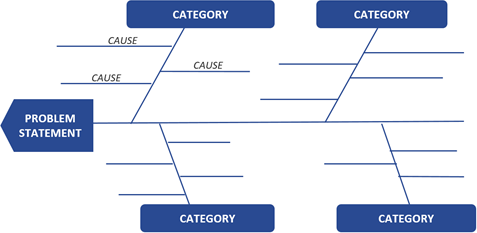 STEP 1
STEP 2
STEP 3
STEP 4
STEP 5
STEP 1
Generate your problem statement.
Individual: What is the problem we need to solve? See if you can express the problem in one sentence.
Share problem statements.
Choose one or create a new one (without getting hung up on the perfect wording). Write your group's problem statement at the "head" of your fishbone diagram.
STEP 2
STEP 3
STEP 4
STEP 5